'The Heat' is on over at Harrows. The classic darts brand has added Damon Heta to its official roster of star players.
Although there appears to have been a long-standing connection between the two, Harrows trumpeted the formalisation strongly on social media yesterday:
After winning his Tour Card this year, Damon has wasted no time in picking up his first @OfficialPDC title, winning Day 2 of the Autumn Series
The Aussie claimed his first Pro Tour title during the recent Autumn Series and had been courted by at least two major manufacturers. Heta has impressed many with his performances both on stage and away from the cameras.
We have no doubt that he has a very bright future in the PDC and we are delighted he is part of the team!
Equally impressive is the approach he has taken and the sacrifices he has made in order to gain a Tour Card and undertake the Pro Tour. He has committed himself in a full-blooded way and even Covid-19 could only hold 'The Heat' back for a couple of months.
Damon posted:
Proud to be joining Harrows for my journey in the PDC #bringtheheat
Harrows are very selective in whom they offer contracts and they support their selections in a quiet but very successful way.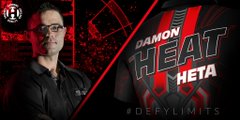 It will be interesting to see how far 'The Heat' will rise.
---
The Boardroom is supported by Catromeda Accountancy: